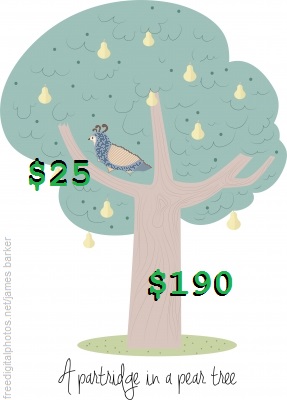 Every year they take that old carol, "The Twelve Days of Christmas" and determine how much all of the items listed would cost, and compare it to last year. It's goofy fun, but it also helps paint a picture of the overall economy.
This year's picture is not so merry, sadly.  Sure, the cost of 10 Lords Leaping is up 3% over last year. Partridges and turtle doves are up, too, due to rising feed prices. Otherwise, this year's total is pretty flat, and that supposedly points to a "bah, humbug" economy.
So how will Gold Rings, French Hens and Pipers Piping hit your budget this year? The PNC Wealth Management Christmas Price Index has it all figured out! Let's take a look!
Partridge, $25; up $5
Pear tree, $190; up $2
Two turtle doves, $290; up $30
Three French hens, $182; same
Four calling birds (canaries), $600; same
Five golden rings, $750; same
Six geese-a-laying, $360; same
Seven swans a-swimming, $13,125; same
Eight maids a-milking, $58; same
Nine ladies dancing, $7,553; same
Ten lords a-leaping, $5,508; up $160
11 pipers piping, $2,635; same
12 drummers drumming, $2,855; same
To see how they came up with these numbers, be sure to check out the original article. So, what do you think? Unless you're buying the same stuf this holiday season as you did last year, it's hard to do an apples-to-apples comparison. But, do you FEEL like you are spending more, less or the same? Let us know over at the MindField Online Facebook page, and have a great second-to-last shopping weekend!