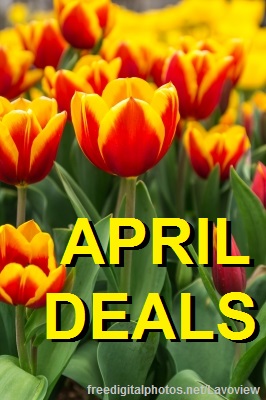 It's springtime and, here in the South, there's no better sign of that than the thick yellow pollen dust covering your car, your patio furniture, and your children. Also there are big savings in the air for the month of April. Let's take a look!
Seasonal stuff: Spring clothing, Easter candy (after Easter, natch), Mother's Day jewelry
Electronics: It's the end of the fiscal year in Japan, and everything must go!
Shoes: After Christmas, shoe sales drop, and retailers are looking to clear their shelves. It's also spring exercising weather, so you will find good deals on athletic shoes.
Health: The New Year's Resolution crowd has faded out, so there are bargains on gym memberships
Travel: Book cruises now, even if you aren't traveling for months
Tax Time: Many retailers (especially fast food) offer a free cup of coffee here, a donut there. We will have more on that later this month!
Home Improvement: Like we said, spring cleaning and projects, projects, projects!
Eco–friendly items: Energy-savers, recycled materials…. If it's Green, you can save some green, especially around Earth Day, which is April 22
Thrift store items: Again, as everybody does their spring cleaning and donates their stuff, thrift stores are overstocked and will offer deals. Deals so good you will want to buy back your old junk!
Again, just the highlights. Here are a few helpful links for your April browsing pleasure.
Have you got any spending (or saving) secrets for April? Share them over at the MindField Online Facebook page!