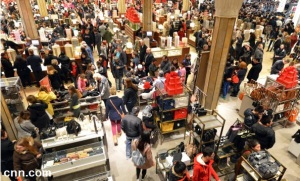 Once again, the Black Friday blog post – the Least-read Post of the Year!®
The Holiday shopping season begins! This year: "The National Retail Federation forecasts holiday sales will grow 4.1 percent to $616.9 billion — the biggest jump since 2011…retailers get 20 percent of their annual sales during the holiday shopping season."  Associated Press
Scanning the news, it seems like business as usual. There are some notes of improvement, though. Instead of the old days, where the doors flew open and Death Race 2000 broke out to get to that one pile of Cabbage Patch kids, stores are spreading out the bargains throughout the store. Stores are hiring crowd control officers. The Early Bird Thursday shopping trend is easing things, as well, but a day later, some Black Friday shoppers are facing empty shelves.
As for the "open on Thursday" thing – what do YOU think? AP quotes a young adult shopper: "It's ruining the spirit of Thanksgiving," she said Thursday. "But … the best deals were today."
So, what's YOUR best bargain of the shopping season so far? Did you witness any craziness? Did you PERPETRATE any craziness? Let us know over at the MindField Online Facebook page, and Happy Black Friday!