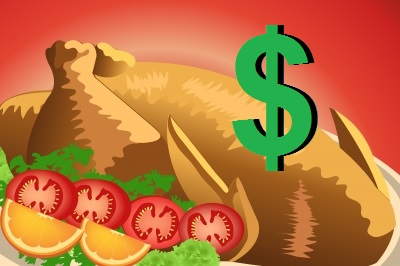 One nice thing about Thanksgiving is that, even when times are tight, we still celebrate it. There are years when we have to choose driving over flying, spend less on food than we like, or worry more about the price of gas. But the urge to get together and give thanks amongst family and friends remains strong. Yay, us!
Apparently, the price of gas will be the lowest, and the number of us taking off in the car the highest they have been in many years. Who knows if we are ever going to get back to 2007 levels of "comfort," but this year seems to be better than last. How so? Let's take a look at Thanksgiving by the Numbers 2015!
Travel:
$2.00 (approximately): average gallon of gas. Lowest since 2004!
46.9 million: people who travel will be driving this Thanksgiving (highest since 2007!)
Food:
248 million: Average number of Turkeys raised in the U.S. each year
51 million: turkeys consumed on Thanksgiving day (same as 2014)
20%: of turkeys raised every year will be eaten this day
$1.15: Average cost of pound of turkey
$4.37 billion: Total value of turkeys produced in the U.S. annually
16 pounds: Annual consumption of turkey by the average American
$56.18: Average household spending on Thanksgiving dinner
$2.9 billion: total spent in US for Thanksgiving food
And… this year's completely random statistic, courtesy of Cracker Barrel:
They will serve 1.6 million pounds of dressing that together weighs nearly 4.5 times more than the Mayflower, the ship that brought the pilgrims to America in 1620! Now you know!!
How about YOUR Thanksgiving spending in 2015? More travel or less? Driving or flying? Longer distance or shorter? More food and/or guests, or fewer? Let us know over at the MindField Online Facebook page! Gobble gobble!
Sources: