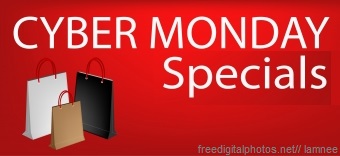 We have heard a lot of noise about the "Death of Black Friday" this year. Is that true?
I think it's all relative. It's still a huge shopping day, but maybe not as big as in the past. Why? I think shoppers are tiring of the hassle, and retailers are tiring of the negative headlines. Stores have taken steps to spread out the deals over a number of days (opening on Thanksgiving has taken a toll), and limit the doorbusters – often flashpoints for inter-shopper conflict.
One thing we can say for sure is that, this year, Cyber Monday has edged out Black Friday for the first time. Apparently, as NBC News cleverly put it: "We would rather be Online than stand IN line!"…
151 million of us went shopping in total this past weekend
103 million of us shopped online,
102 million went to the physical stores
94 million of us didn't shop at all (including ME.)
We spent an average of $299 this past weekend, 2/3 of that on gifts
We spent $1.8 billion on Thanksgiving Day
We spent another $10.4 billion on Black Friday
Sales were down 1.5% in stores
Spending per shopper was down 1.4%
We spent $3 billion on line on Cyber Monday
That's an increase of 12%
This year's Gotta Have item: big screen TVs!
Read more fun facts here! Personally, I can see the benefits of the Cyber Monday thing. I have participated in the past, but never in gift-giving mode. Typically, I have been needing a new laptop for 3 or 4 months, and Cyber Monday is when I pull the trigger. I have saved hundreds of bucks, for sure, and all from the comfort of home.
How about you? Are your holiday shopping habits changing? Is Black Friday still fun, or is it losing its charm? Are you steering more toward Cyber Monday these days? Let us know over at the MindField Online Facebook page!