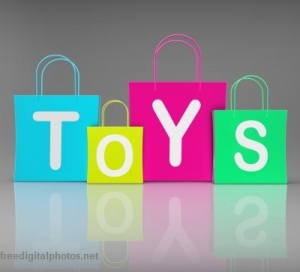 Hey parents! What's the deal with the toy business? Lego is going strong, (that movie certainly helped!) but almost everybody else in the toy business is hurting. Mattel's sales are down, so is Barbie, and Toys 'R Us is doing some…interesting things to ramp up business.
Case in point (according to Time magazine): selling Breaking Bad action figures. Trust me, Breaking Bad is truly one of the best TV shows in the history of TV (the full series is streaming on Netflix.) But, toys based on drug dealers, complete with wads of cash and fake crystal meth? Not so sure about that. The retailer explains that the BB stuff is in their adult section, away from your Hello Kitty and your Iron Man…which makes me ask: Toys 'R Us has an adult section?
The experts say that this is a sign of the times. The only toy-related things that sell anymore are video games (and Lego, of course). And Toys 'R Us is partnering with Claire's to sell earrings and nail polish to teen girls.
But I don't have kids. So I'm asking… are toys dead? Let us know over at the MindField Online Facebook page!