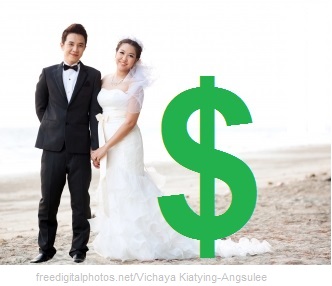 We think of June as the beginning of wedding season, though statistics tell us that the number of weddings is spread out pretty evenly throughout the year. June is number one, for sure, but not by a huge margin.
Anyway, let's just go with it and say "It's Wedding Season!!" If you are getting married – or you're paying for someone else to – where will your money go?
In the US, we spend $48 billion every year. Here are some numbers…
$30,000: Average cost of a wedding in 2015*
$5855: Average cost of an engagement ring
$1,973: Average cost of a wedding planner
$1350: Average cost of a wedding dress
$14,000: Average cost of venue
$1970: Average cost of flowers
$2550: Average photographer
$68: Catering spent per guest
Most expensive wedding location: Manhattan at $76,000!
Least expensive wedding location: Utah at $15,000
Did you notice the asterisk (*) by that $30K average? That's because there are theories (like this one) that say these numbers are inflated by some in the industry to get you to spend more. ("But Daaaad…the average is $30K, and I'm only asking for 25!!!"
How about you? Do these numbers seem right? Let us know over at the MindField Online Facebook page!