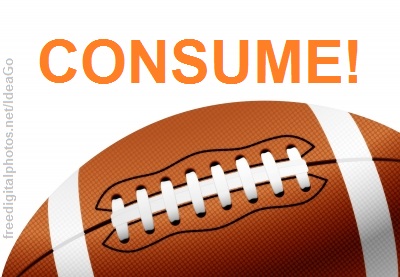 Well, I finally got my answer… The Super Bowl has always used Roman numerals. So, for the past few years it's been XLVIII, XLIX, and so on. And I wondered, what will they call it when they hit fifty – "Super Bowl L"? That's stupid!
Welcome to "Super Bowl 50."
Whether we love the teams, or love the game, or the commercials, or the Puppy Bowl, we will be tuning in to the Big Game this Sunday, right after the 14-hour pregame show. 190 million of us will be huddled around a TV somewhere, watching, screaming and consuming everything in sight. Where will we be? What will we eat and drink? How much will we spend? It's all here in Super Bowl by the Numbers, 2015!
189 million: number of US television viewers (up 5 mill from last year)
$15.5 billion: total spending for food, party supplies, team wear, etc.
$82: the average spent per person (up 4 mill from last year)
PARTIES! 18% will throw one, 29% will attend one
$140 million spent on potato chips (top snack)
1.3 billion chicken wings will be consumed. That's, like, 650 million wingless chickens!
BOOZE! 53% drink beer, 27% wine, 24% hard liquor
8.6 million people bought a new TV for Super Bowl 50
79% see the TV commercials as part of the fun
Being a Bengals fan, I am used to feeling a little case of the what-ifs at Super Bowl time. This year, after that last Pittsburgh game, Cincy fans get to feel a big dose of embarrassment and shame, too! Good news: Steelers receiver Antonio Brown is up and around and talking smack, so I guess he recovered from that brutal 4th quarter hit from Vontaze Burfict!
So what are your plans for Super Bowl? Having friends over? How much will you spend on snacks (and BEER!)? Let us know over at the MindField Online Facebook page, and have a great Super Bowl weekend!