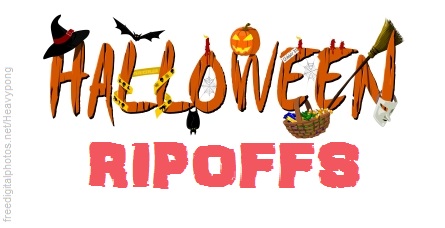 What's scarier than ghosts and goblins at Halloween? Getting ripped off by unscrupulous Halloween vendors! That's the gist of an article entitled "Don't get tricked when shopping this Halloween."
…spending on Halloween festivities, including candy, costumes, and decorations is expected to reach $6.9 billion. 157 million Americans are expected to celebrate Halloween this year, making Halloween the second largest shopping season of the year. The Better Business Bureau advises consumers to spend Halloween shopping dollars wisely.
In particular, the article advises you to be cautious around two types of Halloween vendor: the popup store and online.
A popup store is one that one space in the strip mall that used to be a Marshall's or Ross but is now empty. Around mid-September, it suddenly turns into HALLOWEEN HEADQUARTERS! Next month, it will be Santa's Workshop or something. So, unlike a regular store that will still be there next month when that giant, air-fed jack-o-lantern in your yard breaks, or some weird charge shows up on your credit card statement, these guys are long gone.  (And no, this is not to malign all popup stores. Just be careful, is all.)
Some tips for dealing with popup stores are…
Check the company's Business Review at BBB.org before doing business.
Buy from companies that have been around long enough to have a clear track record.
Stores with a spotty past may change their name from year to year.
Ask the store how long it plans to occupy the building. If you cannot get an answer, ask to speak with a manager.
See if they have a website in case you need to contact them later.
They also say to shop closer to Halloween for lower prices (and a way worse selection!) As for online Halloween vendors…
Check the company's BBB record at BBB.org.
Use your browser to search for the company's customer reviews by typing their name plus the word "review."
Services like Pay Pal are useful because they do not disclose your credit card number to the seller.
With reputable retailers, pay by credit card.
Know the return policy and read it carefully.
And, in all instances, save your receipt! There are a lot more useful Halloween shopping tips at the original piece, so check it out! How about you? Have you had success with seasonal vendors? Any horror stories to share? (I got ripped off by some 4th of July dudes once!) Let us know over at the MindField Online Facebook page, and have a great weekend!