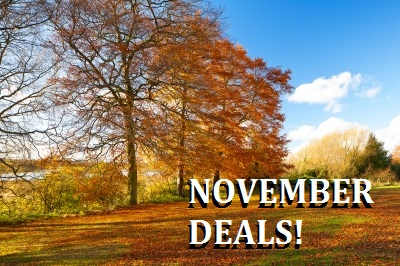 When it comes to November's best deals, your mind probably heads straight for Black Friday and/or Cyber Monday. Those are both good bets for finding savings on your holiday shopping lists, but they aren't the whole story.
Consumer/lifestyle sites DealNews.com, Lifehacker.com and Coupons.com all have a stack of the best – and worst buys for your November shopping pleasure. Let's take a look at some of the highlights.
Go For It!
Kitchen cookware and gadgets: "The absolute best time to buy."
Major appliances: November is your moment!
New iPad mini 4: Likely released by Black Friday
Android and Windows Tablets: Crazy low prices
Apparel: 50 to 80% off
Game consoles: And look for free games with purchase
TV's: The bigger the better
Laptops: Common doorbuster item on Black Friday
Maybe Wait!
Roku Box: December is better
Travel: November OK, December better
There are tons more tips in the following articles, so check 'em out! How about you? What's on your shopping list? That item you have been waiting for the perfect moment to buy? Let us know over at the MindField Online Facebook page, and have a great weekend!
Links: