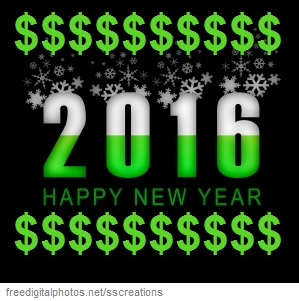 For many of us, our New Year's Financial Resolutions begin and end with "win that record-breaking $1.3 billion Powerball jackpot."
New Year's Day arrives, and we all make Resolutions. Some are serious, some are frivolous, most are in-between, and many are forgotten. I think many get swept under the rug because we don't know what an achievable goal looks like, and we don't know where to start. Fortunately, everybody and their brother with a consumer or personal finance blog is here to help! Here are some common New Year's Financial Resolutions!
Spend less
Save more
Invest more
Pay down debt
Set aside money for an emergency
Have a budget and stick to it
Save more for retirement
Buy a home
Save for your kid's college
Learn more about finances
I'll add one more: Take advantage of unexpected windfalls. Last year, I got a notice about a pension payout (one that I didn't know existed) from a job I quit 15 years ago. I could have done a LOT of cool things with this chunk of change, but I did the responsible thing and actually put it toward retirement! BORING!
Anyway, do you have New Year's Financial Resolutions for 2016? Have you already started? Let us know over at the MindField Online Facebook page! Here are some links!