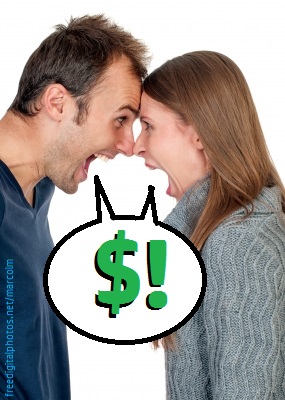 Couples and money. Yikes, right? Various studies tell us what many of us already know: disagreements over our finances lead to more fights than disagreements over kids, sharing the chores, work or friends. Another study says that couples who fight over finances once a week are twice as likely to divorce as those who fight once a month.
What is the answer? Well, money issues never seem to go away, so maybe we should get used to that, and try to find ways to deal constructively with each other.
Money dude Dave Ramsey has a few ideas on the topic in an article entitled "14 Things Only Couples Understand about Money." In it, he suggests that some of the things that bug us about our significant other in the finance department are universal – everybody deals with them. Others are unique to our situations, but if we can recognize them, we can deal with them without it turning ugly. Here are some highlights…
Money disagreements will happen
Compromise is key
Timing is everything.(As in, don't try to have a serious discussion about money when you're angry, or time is short.)
Play to each other's strengths.(Dave is big on there being one "fun" person and one "nerd" in each couple, to balance each other out in the finance department.)
Be each other's accountability partner
Occasional splurges: If you up save for them, they are good stress-relievers.
Vacations: You NEED to get away sometimes. Just be sure to save up for them.
Getting rid of debt takes some serious cooperation
Getting on the same page about money takes time!
Even when you know these things, it can be hard. I guess teamwork is key, and knowing that you aren't the first couple to deal with this stuff. Anyway, there are more thoughts and tips at the original piece, so check it out.
How about you? Did you ever deal with this stuff? How did you handle it? What did you learn about yourself and your partner? Let us know over at the MindField Online Facebook page!