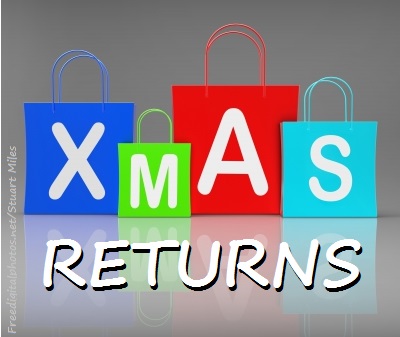 These days, every gift I receive or give at the holidays comes with the tags still on, or accompanied by the receipt in an envelope.  For those who prefer gift-giving, as opposed to gift CARD giving, you have to expect that a trip to the return desk is a distinct possibility.
We know that gift return can be a challenge and a frustration. There always seems to be 30 people waiting in line, with one clerk working. Or – my favorite – there are two clerks working, one who knows what she is doing, and one who doesn't. The one who doesn't calls over the one who does, to help solve some problem. Now, you have NOBODY working!
Information is the key, so here are some links that will help guide you through return season 2015.
So, there's your tour of gift return policies. Remember, gift return is definitely a chore, but it doesn't have to be torture! How about you? Do have any gift return tales to tell – naughty or nice? Let us know at the MindField Online Facebook page!