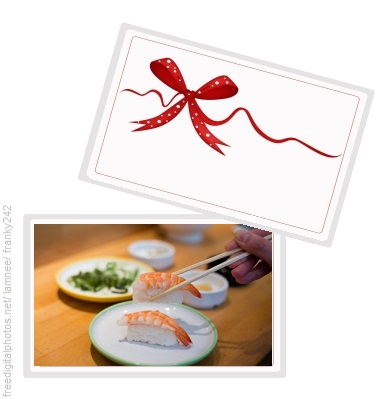 Dining gift cards… meaningful gift or not? It depends on the recipient. My mother LOVES to go to lunch with her friends. So a dining gift card makes a lot of sense. Used for lunch on Senior Discount Day, even a $25 card can go a long way.
But during the holidays, a dining gift card can go even further. Many restaurants offer bonuses during this time of year, along the lines of "Buy a $50 card, get $10 extra for free." MoneyTalksNews has compiled a list of several of these deals. Here are the bullets…
Bakers Square Restaurant & Bakery: Buy $25 gift card, get $5 bonus card
California Pizza Kitchen: Buy $50, get $10 promotional card
Cheesecake Factory: Buy $25, get one slice of cheesecake or layer cake
Del Taco: Buy $30, get one small-size combo meal OR Buy $100 in gift cards, get four small-size combo meals
IHOP: Buy $25, get $5 coupon
Olive Garden: Buy $50, get $10 bonus offer
Outback Steakhouse: Buy $50, get $10 bonus card
Papa John's: Buy $25 e-gift card, get one-topping large pizza
Pei Wei Asian Diner: Buy $25, get $5 bonus card
P.F. Chang's China Bistro: Buy $100, $20 bonus card
Romano's Macaroni Grill: Buy $25, get $5 grazie gift bonus
Ruby Tuesday: Buy $50, get $15 bonus card OR buy $25 and get $5 bonus card
Souper Salad: Buy $25, get $5 gift card
Souplantation & Sweet Tomatoes: Buy $50, get meal pass valid on your next visit
T.G.I. Friday's: Buy $25, get $5 Bonus Bite card
Who's hungry? Now, almost all of these bonus deals have expiration dates, so be sure to go to MoneyTalksNews to get the details on that, as well as how to purchase the gift cards.
I wish I had read this earlier – I always get my mom a Red Lobster/Olive Garden card. Of course, I bought it at the kiosk at CVS Pharmacy, so no bonus for me! Maybe next year…
How about you? Are you a dining gift card giver? Do any of these sound like good deals? Let us know over at the MindField Online Facebook page!