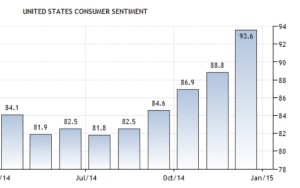 How would you rate YOUR consumer confidence? Apparently, according to the people who keep track of these things…
The Thomson Reuters/University of Michigan's final reading on the overall index of consumer sentiment came in at 93.6 in December, slightly down from a preliminary reading of 93.8 but up from 88.8 in November. It is the highest reading in nearly eight years as lower gasoline prices drove expectations up. TradingEconomics.com
Highest reading in 8 years… They say that gas prices are a factor. I am certainly in a better mood at the pump these days, paying $1.75 (in South Carolina) rather than $3.50… dang, that's like HALF price!
As a freelance writer, I look out on the horizon and see more POTENTIAL jobs this year. So far, though, they are still POTENTIAL. I always say, if the year turned out like my rosy January predictions, I could RETIRE. Hasn't happened yet. But, sure, I  guess I feel a little more optimistic now than in the past few years.
How about YOU? What's your "consumer confidence" level? Better, worse, the same? Let us know over at the MindField Online Facebook page, and have a great weekend!