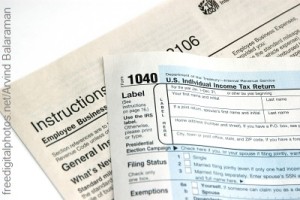 Homer Simpson, doing his tax return at the last minute: "Okay, Marge, if anybody asks, you require 24-hour nursing care, Lisa's a clergyman, Maggie is seven people and Bart was wounded in Vietnam."
Tax time is an anxious time. Depending on your income bracket, your cash situation or other circumstances, you may be dreading this time of year. And you may be thinking about ways to reduce your tax bill, some legitimate, others not so much.
Just so you know, the IRS know all the angles. And they have issued a press release outlining some bad tax ideas that you, or a scammer, or a crooked tax preparer might be tempted to perpetrate.
Here are the bullet points for the IRS "Dirty Dozen" tax scams for 2015. The first three are scams that might victimize you. The rest are schemes that some taxpayers and preparers may be tempted to pull. Either way, be warned:
Phone Scams
Phishing
Identity Theft
Return Preparer Fraud
Offshore Tax Avoidance
Inflated Refund Claims
Fake Charities
Hiding Income with Fake Documents
Abusive Tax Shelters
Falsifying Income to Claim Credits
Excessive Claims for Fuel Tax Credits
Frivolous Tax Arguments
For all the details, DEFINITELY read the official press release. How about you? It's never fun, but when you have your deductions and credits and all your documentation lined up, paying taxes can be a little less stressful. Have you got it together? Let us know over at the MindField Online Facebook page!