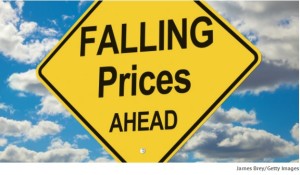 Didn't Walmart used to say that? Anyway, it's coming true across our economy, for a few reasons. Gas prices are a big one. We blogged back in November, amazed about gas prices that were around $3.40 in June had fallen to $2.62. Well, today they are $1.89 in my town. This affects transportation costs of just about everything we buy.
So, which items will are likely to cost less in 2015? DailyFinance.com has the 411, and here are some bullet points…
Gas Prices
TV Content Packages: folks, the "cable cutters" have won.
Cloud Storage: I don't understand the cloud, either. But I like paying less for it!
4K TVs: I just now bought a flatscreen – don't rush me!
Smartphones: Now that everybody already has one, the price drops. Shocking!
Video Game Consoles: To quote Grandpa Simpson, "I got down on the floor for THIS?"
Kia Forte: Now officially the cheapest car in the US
As usual, these are just the highlights. Much more info at the original piece. So, are you noticing prices dropping. Gas, certainly, but anywhere else. If you started saving on daily stuff, what would you do with the money? Let us know over at the MindField Online Facebook page!