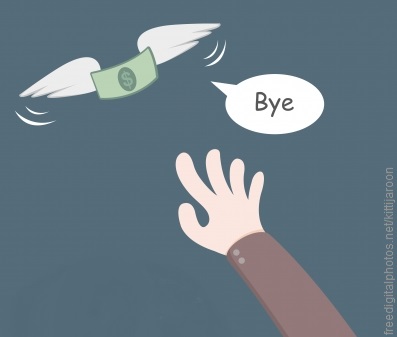 Have you ever made a purchase that seemed SO logical at the time? You really had yourself convinced that it was a good investment. Heck, at these prices, you can't afford NOT to buy! And then, it just sits there on the shelf unused…mocking you. Personally, I have one right now: a certain very famous foreign language program that set me back $600.
If it's any comfort, we all do this, so much so that AARP has written not once but twice on the topic and compiled a Top 20 of spending regrets. Here are some highlights…
First-Generation Technology: It's just not worth it to be the first one on the block.
'As Seen on TV' Products: Anything where they automatically send you two for the price of one, I'd watch out.
Elaborate Weddings: Average cost of a wedding is $26,000. Think of the head start you could give yourself with even HALF of that money.
Get-Rich-Quick Schemes: If it sounds too good to be true…
Prepaid Funeral Plans: I worked in this industry. Yes, put aside money for your funeral. Discuss your wishes with your spouse. But a "plan"? I don't know.
Used Books: Guilty. I have the most impressive bookshelves, and I have read fully one-third of them!
Home Party' Products: One for the ladies. As far as I can tell, simply attending one of these requires you to buy something. That's a built-in regret!
Season Event Tickets: Also guilty. By the time you miss two of the 6 or 7 events, it's not a value anymore.
Things to Get You Organized: Ask my wife; it's not enough to put all your junk up on the shelf – all the containers have to match! A classic battle of slob-meets-OCD!
Specialized Kitchen Appliances: Bread maker, pasta maker, $300 smoothie machine… more like specialized space-taker-uppers!
Loans to Family, Friends: This one could have been #1 thru 20 on this list!
And these are just half of the entries. If you don't want to experience financial regret, check out the two lists, HERE and HERE. How about you? We all have spending regrets? What are yours? Let us know over at the MindField Online Facebook page!