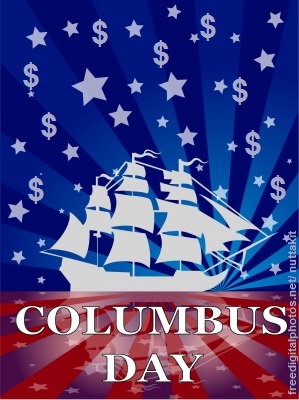 Between Labor Day and Black Friday, there's an also-ran of a shopping holiday called Columbus Day. Lately, the actual holiday of Columbus Day has been quietly shoved aside, rightly or wrongly, so much so that I am unaware of it until I hear a commercial for "Toyota's Columbus Day Clearance Sale!!!"
But please, no politics, just consumerism!
So, aside from radio ad hype, are there deals to be found on Columbus Day weekend? Or are you better off waiting for Black Friday?  The Answer is Yes. According to USNews.com:
Shoes and accessories are great buys. In fact, you might save 30 to 70% on wallets, purses, and totes, around 50% on shoes, according to DealNews.
Clothing will see discounts, but not the deepest. Maybe up to 40% now, 50% or better on Black Friday.
For HDTV sales, size matters. Don't know what that headline means, but the point is that prices are basically what they will be for Black Friday, so go for it.
Gadget-seekers should practice patience. Better wait for Black Friday.
Big-ticket items are better buys later. Refrigerators, etc., just came out at Labor Day, so they're still pretty new. Wait a bit.
Bottom line, if you are a gift shopper, and you feel the urge, you are probably going to head out this weekend to "discover" some savings! If you do, here is a really thorough list of what many of your favorite retailers have to offer this Columbus Day weekend, thanks to DealsPlus.com.
How about you? Will you wait until Black Friday, or are you heading out to shop this weekend? What kinds of deals are you hoping to snag? Let us know over at the MindField Online Facebook page, and have a great weekend!