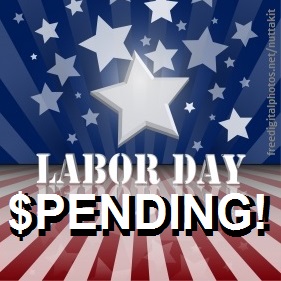 The last bash of the summer has come and gone. Now, it's back to work and school with barely a break until Thanksgiving – though Columbus Day and Veterans Day certainly help!
So how did we spend our precious final summer weekend? Here are some stats:
Travel: The LA Times says that 35.5 million of us traveled at least 50 miles for the holiday weekend, and we spent an average of $380.
U.S. travelers spent an estimated $13.5 billion, a 2% increase over last year.
Gas Money: We spent an average of $2.45 per gallon of regular gasoline, the lowest gas prices for Labor Day weekend since 2004. (It was $1.84 in Charleston SC!)
Yahoo Finance says that overall, we have saved over $1 Billion at the gas pump this year.  BUT… that hasn't translated into a bunch of extra spending. One estimate says that for every dollar we save, we are putting one-third toward our credit cards, ne-third into savings, and one-third into new spending. Good news, right?
Movies: Labor Day weekend is never the biggest money-earner, as everybody is doing other stuff. But, according to Rotten Tomatoes, this year was terrible – the worst in 15 years. The top 20 films earned $79 million, down from a typical $90-110 million. This weekend's winner was the religious-themed War Room.
So, how did you spend Labor Day 2015, and how much did you spend doing it? At my house, we bought a tank of gas for a 200-mile day trip, spent $60 on clearance items at Kmart, $30 on food…and that's about it. How about you? Let us know over at the MindField Online Facebook page!