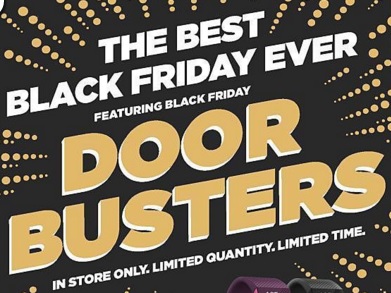 Recently, Walmart announced changes to the way they will be doing Black Friday in an effort to "keep things simple.' One big change: no more doorbusters. Apparently, they lead to confusion. And, let's be honest – they can sometimes lead to confrontation (not that this is Walmart's fault, nor is the chaos limited to Walmart). Instead, they "will offer deep discounts on gift items like TVs, DVDs and pajamas starting at 6 p.m. on Thanksgiving at its stores until they are gone." Frankly, if a redesign leads to fewer fistfights, I'm for it. Proactive!
So, it's two weeks until Black Friday. What can we expect? Well, several stores have already released, or previewed or teased, their Black Friday mailers. Other stores' mailers have been "discovered" by something called BlackFriday.com.
Here are some links to some of the more popular national stores Black Friday Ads, or top secret intel…
Lots more at BlackFriday.com, so check it out. So, how about you? Looking forward to Black Friday, or have you changed your habits over the years? Let us know over at the MindField Online Facebook page, and have a great weekend!