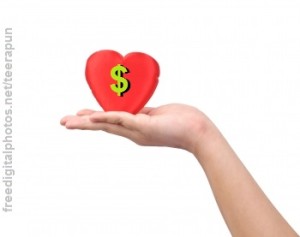 Well, the statistics are in, and the retailers are thanking their lucky stars. Valentine's Day spending is back, baby! In almost every category, V-day spending is up. To the extent that this predicts retail sales, or consumer confidence, or whatever, it's all good in the retail 'hood.
According to the National Retail Federation, and as reported in USA Today and Yahoo Finance, here are some of the bullet point from this year's survey. Or as we call it, "Valentine's Day by the Numbers!"
$18.9 billion: To be spent in 2015. That's up 1.5 billion from last year!
$88: Average spent per person, up $10 from 2014
53%: Will buy candy
21%: Will buy jewelry
38%: Will buy flowers
35%: Will have a night out
1-2-3: In order, MEN buy 1) Flowers, 2) Candy, 3) Cards
1-2-3: In order, WOMEN buy 1) Cards, 2) Candy, 3) Evening Out
#1 Destination for women: Discount stores
#1 Destination for men: Department stores
21%: People who will buy a Valentine for their pets
54%: Men who foolishly believed their wives when she said "I don't really want anything for Valentine's Day."
OK, I made that last one up. Anyhoozle, it's nice to see that, even in VERY uncertain times, a nice little romantic holiday like this can break through the anxiety. Whatever you spend, however you spend it, spend it with somebody you love!
What are YOUR Valentine's day plans? Let us know over at the MindField Online Facebook page!